COACHING
Need to rally your team around a shared project?
Need to enhance the leadership skills of one of your team members?
Need to smooth the transition to a position with new responsibilities?
Need to help improve a leader's decision-making process?
WHAT IS EXECUTIVE COACHING ?
Executive Coaching is the performance-driven training of a leader or a team based on a set of specific professional goals (change, development, advancement, decision making, etc.) over a period of time, to achieve tangible and measurable results in his or her professional life.
Put your employees on the road to success,

Develop their managerial skills,

Improve public speaking ability,

Gain a better understanding of stress generating situations and how to take the long view,

Manage time and set priorities.
The Coach uses the methods he or she deems appropriate to each situation and/or objective: MBTI , ProcessCom, NLP, systemic, etc.
WHAT ABOUT ETHICS ?
CARE VENDÔME adheres the code of ethics of the Société Française de Coaching. All sharing of information remains completely confidential. In accordance with the code of conduct, the coach can only report details of his actions to the purchaser or contracting party within the limits established beforehand with the coachee.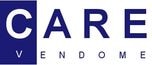 HOW DOES A COACHING TAKE PLACE?
A meeting is held with the client, the coach and the coachee to define the coaching goals. The work is based on real situations selected from the coachee's experience in terms of management and communication issues, interpersonal relationships, conflict and/or stress management.
The different phases of coaching:
Background and Assessment
The coach and coachee get to know each other through introductions and acknowledgements. Clear-cut goals are formulated. Situations, difficulties and behaviors in need of improvement are identified. Areas of improvement are defined.
Sessions and Progress
Real-life situations are analyzed, and/or role games are prepared, with exercises or experiments offered between sessions. A specific area of improvement is worked on, the points discussed during the sessions are summarized, and an analysis is made of deviations from the initial assessment.
Wrap Up and Review
LDuring another three-party meeting, the coachee may review his coaching program, to assess and measure his achievements in light of the initial goals set, and to identify future outlook.

 Each assignment is specific, unique and part of the global set of issues at stake in the company and its human and professional environments.