More than Executive Search, Career Design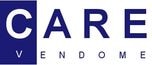 Céline
GRECIET
Coach, trainer and consultant, Celine is specialized in engineering and managing HR development processes (GPEC, career management, recruitment, mobility and training). She started her career in the HR department of a major oil company and went on to work for a major aerospace supplier, accumulating years of experience in the field, at headquarters and industrial sites in France and abroad.
Céline holds a Masters degree in Human Resource Management and Employment Law. She is a certified HEC Coach, ProcessCom® coach (by the Kahler Institute, Paris) and a Master Practitioner in NLP (by French Institute of NLP-Paris).

Christophe
LUNACEK
Adviser, trainer, coach in management and in crisis management, Christophe is the co-creator of the Apter method, based on motivational drivers. He began his career as a communications officer and moved toward teaching management classes, lecturing in negotiation strategy at France's prestigious ENA (Ecole Nationale d'Administration) before gravitating to training at a Parisian consulting firm. Since 1998, he has worked as an independent consultant and head of research / development at Apter France.
A graduate of the Institut d'Etudes Politiques de Lyon and a holder of a Masters in Communication in Paris, Christophe is also a Master Level Practitioner of the Apter Coaching Certification Method.